About National Testing Agency:
The Ministry of Education (MoE), Government of India (GoI) has established the National Testing Agency (NTA) as an independent, autonomous, and self- sustained premier testing organization under the Societies Registration Act (1860) for conducting efficient, transparent, and international standardized tests in order to assess the competency of candidates for admission to premier higher education institutions with a mission to improve equity and quality in education by developing and administering research-based valid, reliable, efficient, transparent, fair and international level assessments.
NTA has created a system that is promoting teaching (by teachers), learning (by students), and assessment (by parents and institutions). NTA strongly believes in the quality, efficiency, effectiveness, equity, and security of assessments. To practice these values, NTA is constantly engaging with its stakeholders, viz. students, parents, teachers, experts, and partner institutions.
About Common University Entrance Test (CUET (UG) - 2022)
The Common University Entrance Test (CUET (UG) – 2022) is being introduced for admission into all UG Programmes in all Central Universities for academic session 2022-23 under the Ministry of Education, (MoE). The Common University Entrance Test (CUET) will provide a common platform and equal opportunities to candidates across the country, especially those from rural and other remote areas and help establish better connect with the Universities. A single examination will enable the Candidates to cover a wide outreach and be part of the admissions process to various Central Universities.
CUET 2022 Exam Pattern - Highlights
Particulars
Details
Exam Mode
Online (Computer Based Test)
Exam Duration
Slot 1: 3 Hours 15 Minutes Slot 2: 3 Hours 45 Minutes (May vary as per the choice of sections)
Number of Sections
4 Sections (Section IA, IB, II, and III)
Marking Scheme
Wrong Answer: – 1 Unanswered questions: 0
Level of Exam
Class 12th
Medium of Language
13 Languages (Tamil, Telugu, Kannada, Malayalam, Marathi, Gujarati, Odia, Bengali, Assamese, Punjabi, English, Hindi and Urdu)
Maximum Number of Tests
9 Tests
(2 Languages, 6 Domain Specific Subjects, 1 General Test OR 3 Languages, 5 Domain Specific Subjects, 1 General Test)
CUET Exam Pattern 2022 Revised
As per the latest CUET updates 2022, the CUET entrance test 2022 will now be conducted in two slots. The duration of first slot is 45 to 195 minutes and the duration of the second slot is 45 to 225 minutes.
The CUET 2022 consists of one language test, two domain-specific papers and the general test. Contain four domain-specific subjects and option language subjects.
If none of the options is found correct or a question is found to be wrong or a question is dropped, then all candidates who have attempted the dropped question will be rewarded five marks.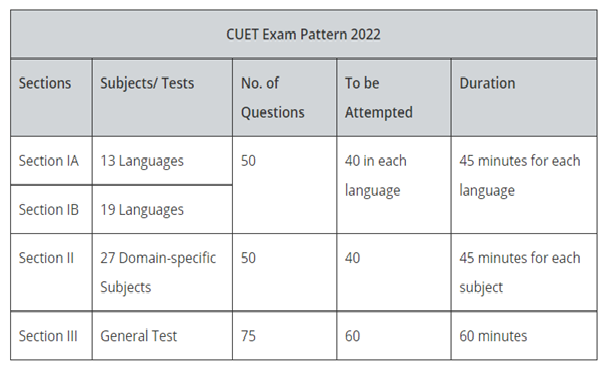 List of Languages for CUET 2022
The CUET 2022 exam will be held on two slots on different days based on the subjects chosen by the candidates.
The candidates can take a maximum of 4 test in Slot 1 which will be held in the morning shift. These tests include one language from Section IA, maximum of two domain specific subjects from Section II and one General Test from Section III.
The CUET 2022 examination for slot 2 will be held in afternoon and candidates can take a maximum of 5 tests in the following manner –
One language from Section IA & IB and a maximum of four domain-specific subjects from Section II.
Two languages from Section IA & IB and a maximum of three domain specific subjects from Section II
Section
Subjects/ Tests
Questions to
Question Type
Duration
be Attempted
Section IA
There are 13 different
40 questions to be attempted out of 50 in each language
Language to be tested through Reading
45 Minutes for each language
–
languages. Any of these
Comprehension (based on different types of passages–Factual, Literary and Narrative, [Literary Aptitude and Vocabulary]
Languages
languages may be chosen.




There are 19 languages. Any other language apart from those offered in Section I A may be chosen.






Section IB
–
Languages (Optional)
Section II – Domain specific test
There are 27 domains specific subjects being offered under this Section. A candidate may choose a maximum of six (06) domains as desired by the applicable university/ universities.
40 questions to be attempted out of 50
MCQs based on NCERT Class XII syllabus only
45 Minutes for each domain specific subjects
Section III-
For any such undergraduate programme/ programmes being offered by universities where a General Test is being used for admission.
60 questions to be attempted out of 75
General Knowledge, Current Affairs, General Mental Ability, Numerical Ability, Quantitative Reasoning (Simple application of basic mathematical concepts arithmetic/algebra geometry/mensuration/s tat taught till Grade 8), Logical and Analytical Reasoning
60 Minutes
The CUET 2022 will be held in two slots – morning and afternoon, as per the CUET UG exam pattern 202. The CUET entrance test 2022 will be held on multiple days. The students will not be allowed to appear in the same subject test again in a different slot.
CUET Application Dates 2022
| | |
| --- | --- |
| Events | CUET Dates |
| CUET application form 2022 releases | April 6, 2022 (Available) |
| CUET 2022 application window reopens | June 23 to 26, 2022 |
| Last date to pay the CUET 2022 application fee | June 26, 2022 (11:50 pm) |
| CUET application 2022 correction window | June 23 to 26 |
Events
CUET Dates
CUET application form
April 6, 2022 (Released)
June 23 (Re-released)
CUET application form ends
Jun-26
Last date to pay the CUET application fee
June 26 (up to 11:50pm)
CUET application correction
June 23 to 26, 2022
Release of admit card
July 13 (phase 1)
July 31 (phase 2)
CUET 2022
July 15 to 20 (phase 1)
August 4 to 20 (phase 2)
CUET Admit Card 2022 Dates
The CUET admit card 2022 for phase 1 has been released by the NTA via online mode oh July 13. Candidates are advised to visit CUET official website and download their respective CUET 2022 admit card. After the successful download of the CUET admit card 2022 candidates are advised to check their name, roll number, CUET exam centre 2022, category, and their contact details. In case of any misinformation, candidates must bring this thing into the notice of CUET officials.
CUET Answer Key 2022 Dates
The NTA will release the CUET 2022 answer key in online mode on their official website. The CUET 2022 will be released in answer key in two stages- Provisional and Final. Candidates can check the answer key of CUET 2022, by visiting the official website of CUET 2022 and enter their login credentials in the answer key login window.
The candidates who have appeared in the entrance exam can check the CUET result 2022 by using their log-in credentials on the official website. Candidates can check their secured rank, qualifying status and individual marks of each subject in the CUET 2022 result. All candidates should note that the CUET result 2022 will be published in the form of a scorecard.
CUET Merit List 2022 Dates
The participating universities under CUET 2022 will release the CUET 2022 merit list on the participating university's official website. Candidates must note that CUET merit list 2022 varies for each university and courses. Applicants can find multiple details in the CUET 2022 merit list such as their name, opted programme, roll number, category, registration number and qualifying status along with the marks secured by them in the CUET 2022 exam. Candidates mentioned in the CUET merit list 2022 are invited for the next stage of admission via CUET 2022.
CUET Counselling 2022 Dates
Each participating university in CUET 2022 will conduct its own CUET counselling 2022. The candidates who have passed the CUET 2022 exam and secured a good rank and are mentioned in the rank list will be called for CUET 2022 counselling. Qualified candidates need to register themselves first by visiting the official website of the participating university. To register for CUET counselling 2022 applicants need to log -in using their application number and password then fill their desired course and college preference. The shortlisted candidates will be required to appear for the document verification process of their respective universities.
Applicants can pay the application fee for the CUET 2022 registration using net banking, credit card, debit card, or UPI. The CUET UG entrance test will be conducted for admission to multiple UG programmes in 44 central universities and 46 other universities on July 15, 16, 19, 20 and August 4, 5, 6, 7, 8, 10.
Every year, thousands of candidates participate in the CUET entrance exam. In 2021, a total of 1,34,722 candidates registered for CUCET, while only 97,416 appeared in the entrance test finally. The entrance test was held in 161 cities across the country at 308 CUCET exam centres.
CUET Registration 2022 Data - (Till May 31)
| | |
| --- | --- |
| Total applications | 9,50,804 |
The candidate should take a look at the number of CUET 2022 seats available at various participating universities. There are around 44 central universities and 37 other universities offering numerous CUET seats 2022 in various fields of arts, science and commerce. The universities will allocate the CUET 2022 seats during the counselling process based on the ranking of the candidates.