Journey to NEET Excellence: Unlocking the Best Study Resources
Preparing for the National Eligibility cum Entrance Test (NEET) can be a daunting task, considering its highly competitive nature and vast syllabus. To succeed in this prestigious medical entrance exam, it is crucial to have the right study materials at your disposal. In this blog, we will focus on three essential books published by Disha Publication that have gained immense popularity among NEET aspirants. These books are the Errorless 36, NCERT Extract, and NCERT Tablet. Let's explore why these books are considered some of the best resources for cracking NEET.
Errorless 36:
In its thoroughly revised and updated 18th edition, this book provides a treasure trove of past year NEET papers from 2023 to 1988, along with valuable additional features. Let's dive into why this book is considered one of the best study resources for NEET preparation.
Extensive Coverage of Past Year Papers: The book contains a vast collection of past year NEET papers, including the recently conducted 2023 NEET paper and the 2022 Phase II paper. By practicing with these papers, aspirants get exposed to the exact exam pattern and gain insight into the types of questions asked over the years,  exam format, identify trends, and fine-tune their preparation accordingly.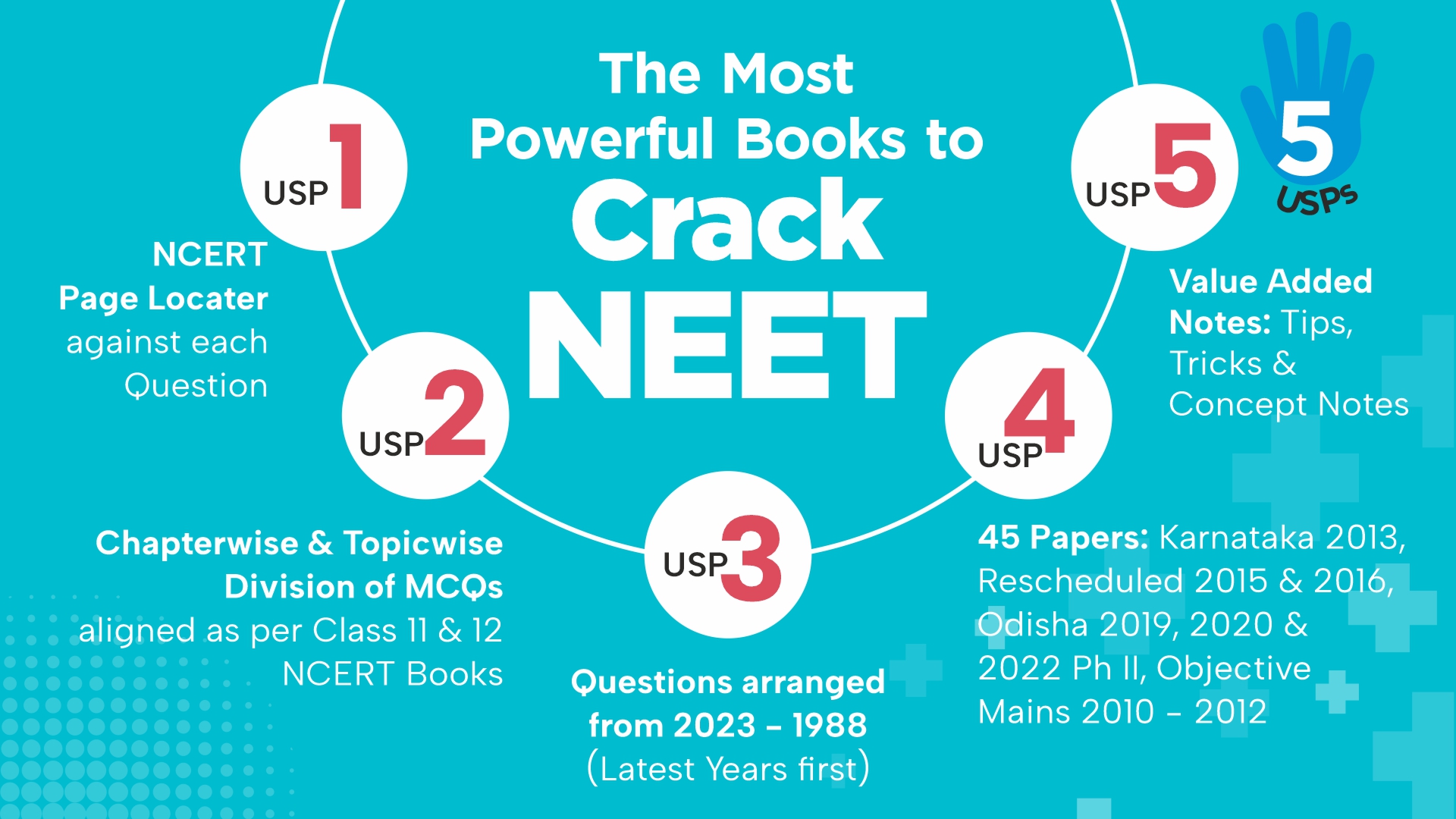 Unique Features: The book stands out from the rest due to its five unique selling points (USPs) that make it an invaluable study resource:
NCERT Page Locator: This feature highlights the corresponding NCERT page numbers for all the questions, emphasizing the importance of referring to the NCERT textbook. This aids students in understanding the significance of the NCERT content in NEET preparation.
Arrangement of Questions: The questions are arranged in a chronological order from the most recent to the oldest, enabling students to begin with the latest questions and progress towards older ones. This approach ensures that aspirants are well-versed with the latest exam trends and patterns.
Chapter and Topic Distribution: The questions are distributed in a manner that aligns with the flow of the NCERT curriculum, making it convenient for Class 11 and 12 students. Each chapter is further divided into 3-4 topics, resulting in a total of 100/98/128 topics in Physics, Chemistry, and Biology, respectively. This organization helps students navigate the syllabus efficiently.
Value Added Notes: The book includes value-added notes in the solutions of select questions, highlighting essential tips, tricks, and concept explanations. These additional notes provide deeper insights and assist students in grasping key concepts effectively.
Inclusivity of All NEET Papers: The book incorporates all 45 papers conducted so far, encompassing a wide range of question variations. It includes papers such as the Karnataka 2013, Rescheduled 2015, 2016 Phase II, Odisha 2019 and 2020 Phase II, and 2022 Phase II papers. This inclusivity ensures comprehensive coverage of the entire NEET syllabus.
Additionally, the book contains a staggering 7800+ milestone problems, allowing aspirants to practice extensively and enhance their problem-solving skills.
The NCERT Tablet book by Disha Publication focuses on extracting the core concepts from the NCERT textbooks, which are considered the foundation of NEET preparation.
 This book acts as a concise supplement to the NCERT books, providing a summary of key points, important formulas, and practice questions. Authored by esteemed Faculty, Dr. Hariom Gangwar, this book is designed to revolutionize the way biology is studied for NEET, providing smart learning techniques and invaluable shortcuts.

Smart One-Liner Format:The book offers comprehensive coverage of the entire biology syllabus, aligning with the NCERT curriculum. What sets it apart is its unique smart one-liner format, which presents key concepts in a concise and easily digestible manner. This approach enables students to grasp the essence of each topic efficiently and aids in quick revision.


Unit and Chapter Division as per NCERT:To ensure systematic and organized learning, the complete syllabus is divided into 10 units and further subdivided into 38 chapters, following the structure of the NCERT textbook. This division facilitates a step-by-step approach to studying biology, allowing students to focus on individual units and chapters, thereby enhancing their understanding and retention.


Exam-Oriented Tips, Tricks, and Mnemonics:To make learning biology more interesting and effective, the book incorporates exam-oriented tips and tricks. These include valuable information such as prefixes in biology, affected organs in various diseases, misnomers, and interesting facts. Moreover, each chapter is enriched with mnemonics—shortcut learning techniques—designed to aid in better and longer retention of key concepts. These features empower students to study smartly and excel in their exams.


Knowledge Boxes, Figures, and Flow Charts:Strategically placed knowledge boxes throughout the book provide additional information on the covered topics, adding depth and enhancing the reader's interest. Figures and flow charts are included wherever necessary to illustrate important points and aid visualization of abstract concepts. This visual representation aids comprehension and makes the learning process more engaging.
This book, spanning 30 chapters and covering both Class 11 and Class 12 syllabus, provides a holistic study experience. Let's explore the key features that make it an essential tool for NEET preparation.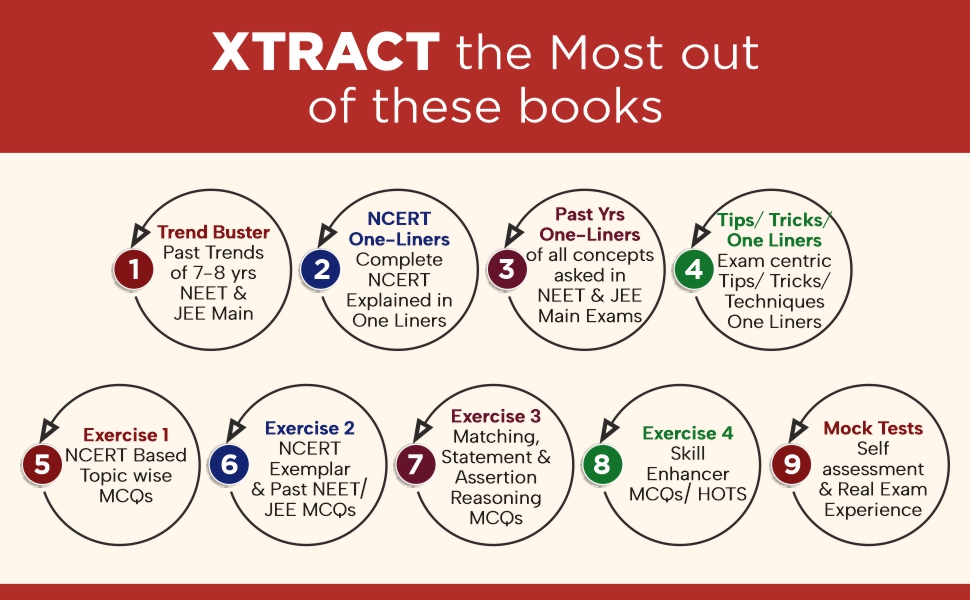 Learn & Revise:Thisbook's first part focuses on learning and revision, providing essential tools and techniques to strengthen understanding. It starts with a "TREND BUSTER" section, highlighting the most and least important topics of each chapter based on the last 8 years' NEET/JEE Main questions. This feature allows students to prioritize their study efforts effectively.
Practice & Excel:The second part of the book focuses on practice and excelling in the exam. It encompasses five types of objective exercises, covering a wide range of question varieties asked in NEET/JEE Main.
Matching, 2 Statement, 4/5 Statement & A-R type MCQs: This variety of question types enhances problem-solving skills and prepares students for the diverse formats seen in the exam.
Skill Enhancer MCQs/ HOTS: These questions are specifically designed to improve skills and enhance critical thinking abilities, promoting a deeper understanding of concepts.
Numeric Value Answer Questions: The book includes these question types, ensuring familiarity with the format and allowing students to practice accurate calculations.
Mock Tests and Detailed Explanations:To assess progress and provide a realistic exam experience, the book offers four mock tests in line with the latest 2022 pattern. These tests allow students to gauge their readiness and identify areas for improvement.
Detailed quality explanations are provided for all the MCQs, ensuring conceptual clarity. This feature helps students understand the rationale behind each answer choice and rectify any misconceptions.

Choosing the right study materials plays a crucial role in NEET preparation. The Errorless 36 book, NCERT Extract, and NCERT Tablet, published by Disha Publication, are highly recommended resources for NEET aspirants. These books not only cover the essential topics but also provide effective techniques to enhance problem-solving skills and conceptual clarity.
By incorporating these books into your study routine, you can develop a strong foundation and increase your chances of cracking NEET with flying colors. Remember, consistent practice and dedicated efforts, combined with the right study materials, are the keys to success in NEET. Best of luck!
Buy Disha's Best Selling Books