Master Geography through Maps with Disha's Exclusive New Release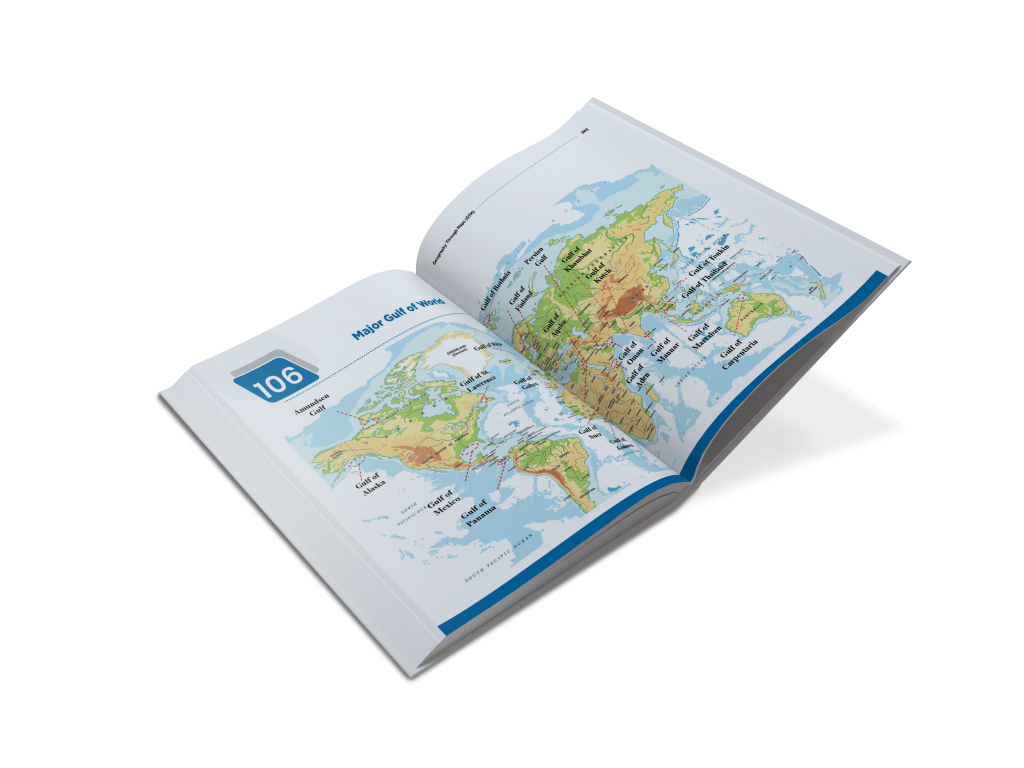 UPSC CSE 2023 aspirants were shocked this year due to the changed exam pattern. This year in the UPSC exam, the number of questions asked from Geography and Maps has significantly increased. A total of 19 questions were asked from Geography and Maps.
Keeping this trend in mind, Disha's Geography through Maps
is designed with a total of 105 coloured maps. Out of these, 78 Maps are of India and the remaining 27 are of the World.  
This book presents the rest of the information like the Physical and Political aspects by the way of info graphics, Pie-charts, Tables etc. All the information is carefully designed by our experts keeping in mind the frequently asked questions in Civil Services Prelim & Main Exams. Let us take a quick look at some of the features that make this book unique.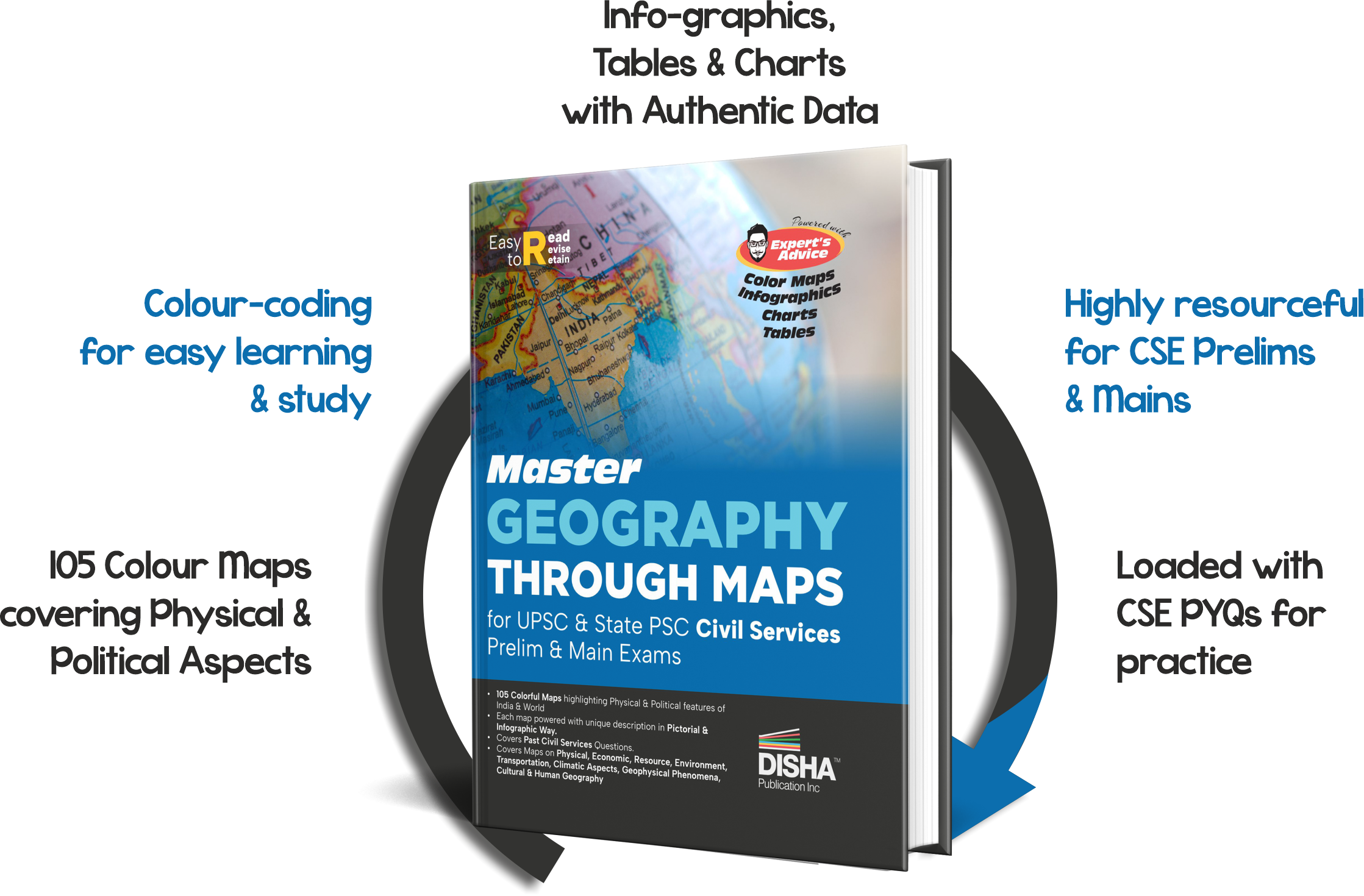 Get a tight grasp on Geography
Visual Learning: Maps serve as visual representations of spatial relationships, providing an immediate understanding of geographical features, topography, and the interplay between physical and human elements. "Geography through Maps" harnesses this visual medium to create an engaging learning experience, enabling readers to absorb information with ease and clarity.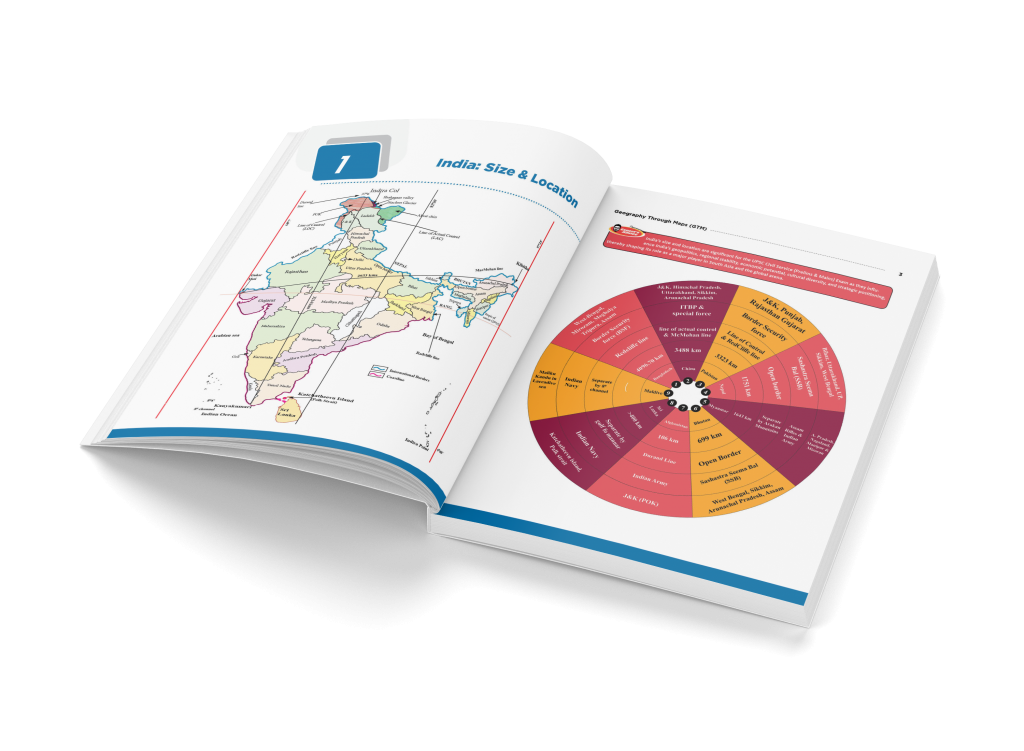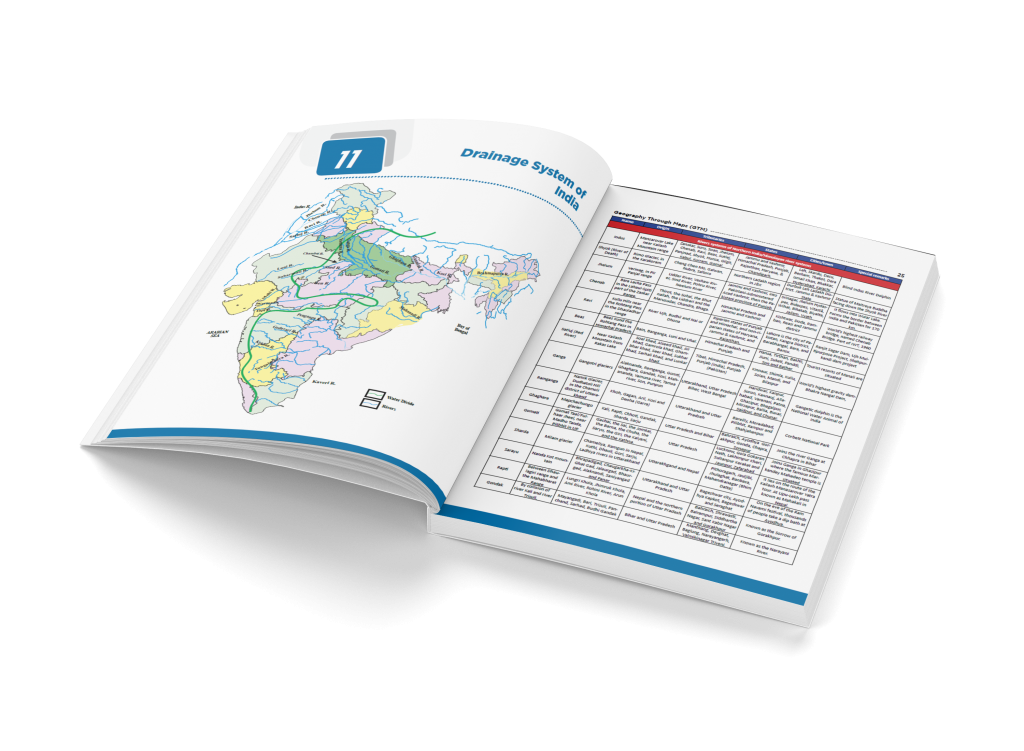 Conceptual Understanding: The book goes beyond merely showcasing maps; it leverages them as tools for conceptual understanding. Each chapter explores a specific geographic theme, such as climate zones, population distribution, landforms, or cultural regions. Through a carefully curated selection of maps, the authors break down complex concepts, making them accessible and relatable to readers of all levels.
Practice Exercises and Previous Year Questions: "Geography through Maps" offers a wide range of practice exercises and previous year's UPSC questions related to geography. These exercises and questions allow aspirants to assess their understanding and application of geographical concepts. By practicing with these exercises, aspirants become familiar with the question pattern and develop the necessary skills to tackle the geography section with confidence.

Interdisciplinary Approach: Geography is an interdisciplinary field, intricately connected to subjects like history, anthropology, economics, and environmental science. The book bridges these disciplines, demonstrating how maps can be employed to explore and understand the intersections between geography and other areas of study. By doing so, it encourages readers to develop a holistic view of the world.
Time-Saving Resource: The comprehensive nature of "Geography through Maps" makes it a time-saving resource for UPSC aspirants. Instead of referring to multiple sources for different geography topics, aspirants can rely on this single book for in-depth knowledge. The structured presentation of information, along with the integration of maps, aids in efficient learning, enabling aspirants to optimize their preparation time.
Current and Updated Information: Keeping up with current events and recent developments is crucial for the UPSC examination. "Geography through Maps" ensures that aspirants stay abreast of the latest geographical trends and updates. The book incorporates up-to-date information on various topics, including recent phenomena, geopolitical changes, and environmental issues. This feature is invaluable for aspirants seeking to demonstrate their awareness of current affairs during the examination.
"Geography through Maps" is more than just a book; it is an immersive journey that unlocks the wonders of geography through the power of maps.
For UPSC aspirants, "Geography through Maps" serves as an invaluable resource that combines comprehensive coverage, conceptual clarity, visual learning, current information, practice exercises, and time-saving benefits.
 It equips aspirants with the necessary knowledge and understanding of geography, helping them approach the UPSC examination with confidence. By utilizing this book as a study aid, aspirants can navigate the challenging geography section and enhance their chances of success in their pursuit of a career in civil services.