"Mann ki Baat" is Prime Minister's unique and direct communication with the citizens through the medium of Radio.
It has been the genesis, medium and amplifier of social changes like Swachh Bharat, Beti Bachao Beti Padhao, Water Conservation, 'Vocal for Local' etc.,
The program has shown tremendous impact on the Industries like Khadi, Indian Toy Industry, Startups in Health, AYUSH, Space etc.
With its innovative and unique interactive style of presentation, the program has carved out a niche for itself as a unique paradigm of communication.
"Mann Ki Baat" is unparalleled in its reach. As per a recent study, it has reached over 100 crore listeners at least once.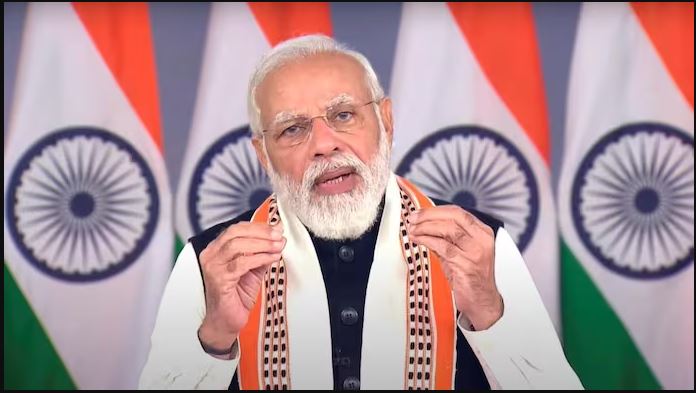 Genesis
This popular program on All India Radio was started on 3rd October, 2014 and is broadcast on last Sunday of every month at 11 AM on entire AIR and DD network.
The 30 –Minute program has recently completed its 100 episodes on 30th April 2023.
In a historic moment, the 100th episode was also aired at the United Nations headquarters.
The broadcast is translated by AIR into 22 Indian languages, 29 dialects and 11 foreign languages, apart from English.
Impact
The monthly radio programme has become a key pillar of the government's citizen-outreach programme addressing multiple social groups such as women, youth and farmers, and has spurred community action.
It speaks directly to people, celebrates grassroots-level change makers and achievements of people and has influenced people towards positive actions.
'Mann Ki Baat' carries the spirit of 'Charaiveti Charaiveti', connecting and inspiring every person in the country.
The programme created a positive and optimistic mindset. Success stories shared on the programme promoted a 'can-do' attitude and instilled a sense of belief that success is possible as listeners came to realise that there are so many individuals who overcame personal, professional or societal challenges, such as poverty, discrimination or health issues, and went on to achieve credible success.
The Mann Ki Baat show is the personification of citizens. It is a way of celebrating others' achievements, an occasion to learn from others.
Mann Ki Baat came across as a more relevant, contextual, and approachable programme to listeners because of its conversational, personable tone and useful topic matter.
The radio broadcast transformed into a platform that has an emotional connect between PM and the people of India.
Mann Ki Baat emphasises the importance of startups and MSMEs in building an independent India while enticing people of all ages to get involved in social and environmental causes.
It had led to a positive impact on various fields including sanitation and sustainability.
It has featured several inspiring stories of talent, grit and creativity, and the radio broadcast has triggered several mass movements.
A research study carried out by Jamia Millia Islamia mentioned the radio show not just as an exemplary communication leadership precedent, but also as a stellar mode for positive change in the country.
The research shows that Maan ki Baat has successfully engaged millions of people across India, promoting awareness and encouraging dialogue on various issues. At its core, the initiative acts an exceptional tool for public policy and nation-building.
According to Prime Minister Modi, the monthly broadcast had allowed him to worship the positives in people he had met with or spoken to. Stating that the broadcast was not just a programme but a "matter of faith and spiritual journey" for him.
PM described 'Mann Ki Baat' as a great medium to learn from the qualities of others, adding that it allowed him to connect with the people of the country.
Themes
Some of the important topics covered by Mann ki Baat so far:
Social Inclusion
PM through this programme urged the nation to recognise the specially-abled population as 'divyang' due to their inherent divinity and considerable achievements, showcasing their strong will towards life.
He also hailed tribal communities across India and mentioned in 2023 a sizeable number of Padma awardees came from tribal communities and people associated with the tribal society. He appreciated tribal societies as they are always eager to preserve their traditions despite facing many challenges.
Culture
PM highlighted various melas and fairs held across the country like Minjar Mela of Chamba. Sari or Sair of Shimla, Mandi, Kullu and Solan; Jagra fairs at Shimla, Kinnaur and Sirmaur and simultaneously in Uttarakhand. Samakka-Saralamma Jatara Fair in Medaram, Telangana.
Boost to artisans and weavers
Prime minister's appeals during his 'Mann Ki Baat' programme to promote khadi have resulted in manifold increase in its production (115 per cent) and sales (179 per cent) from 2013 to 2020, directly resulting in the empowerment of artisans and weavers involved in its production.
The increase in the production of khadi gave a "significant boost" to the income of artisans and weavers.
Aatma Nirbhar Bharat
PM mentioned Indian innovators for their contribution in the Aatma Nirbhar Bharat App innovation challenge. He mentioned names of different apps including Chingari, which is also known as desi alternative of Chinese TikTok developed by Sumit Ghosh. He also mentioned Imran Khan a teacher from Alwar district who has made 52 educational apps and dedicated those apps to the students for free.
Promotion of local tourism and Incredible India
In a bid to promote local tourism and Incredible India, PM recalled how 'Mann Ki Baat' called for people to promote tourism by visiting at least 15 Indian places, not within their states of residence. Through this movement, for the first time, people came to know about such places, which were just in their neighborhood.
Environmental issues
PM talked about topics like revival of 'Chitte Lui' in Aizwal, 'Recycling for Life' campaign, Puducherry; rejuvenation of 'Sultan Ki Baoli',Udaipur and other serious topics like clean Siachen, single use plastic, e-waste, E-cigarette ban and Plogging.
Examination Stress
He asked students to avoid exam stress and compete with themselves, not others.
Financial Inclusion
Mentioning about Jan Dhan programme on the eve of third anniversary of the scheme PM mentioned deposition of almost Rs 65,000 crore in 30 crore bank accounts, which is more than the population of several countries.