Welcome to Disha's OFFICERS DEFENCE ACADEMY, which is a One-Stop Knowledge Point for all your requirements pertaining to the best Study Material for Defence Entrance Exams in India.
The Most Important Exams conducted by Government are National Defence Academy/ Naval Academy (NDA/NA), Combined Defence Services (CDS), Air Force Common Admission Test (AFCAT) and Central Armed Police Forces exams being organized every year.
Every year around 20 to 25 lakh students appear in various Defence Entrance Exams. Disha's OFFICERS DEFENCE ACADEMY helps you to keep abreast with Defence study materials, about the latest notifications, changes in exam patterns/ structure, solved papers, trends, Latest Mock Papers, Concept Notes, Sample e-books, Online Tests, Cut off Marks, Strategies & Tips to crack the Defence exams etc.
FREE Study Material for Defence Exams
Why choose a career in Defence?
Indian Defence Services offer dignified, prestigious, and lucrative career opportunities. As a part of the Indian defence services. One can serve in the Army, Air Force or Navy, on combat duty, on administrative assignments, in the medical services, engineering services, in the JAG's Department, or in the Education Corps.
The nature of responsibilities varies with the diverse range of activities in the defence services. The recruitment to the Armed Forces is voluntary and every citizen of India, irrespective of his caste, class, religion and community, is eligible for recruitment into the Armed Forces, provided he meets the laid down physical, medical and educational criteria.
Types of Exams:
Central Armed Police Forces (CAPF AC)
National Defence Academy/ Naval Academy (NDA/NA)
Combined Defence Services (CDS)
Air Force Common Admission Test (AFCAT)
Download Disha App to avail Exclusive FREE Study Material

Disha has always been the guiding force in aspirants' preparation for years; only now Disha has a state of the art Mobile Application that has combined the best of both worlds, that is, Best Study Resources with FREE Online Mentorship.  
Download Disha's Official App to explore Free Exclusive Content, Exam Information, Quizzes, Mock Tests, Live Classes, Online Courses, Videos, Bookstore and more!
Disha Publication is designed to be the most trustworthy & student-friendly app to prepare for all competitive exams. We aim to provide the finest and most affordable learning experience to aspirants and students looking for quality guidance as well as study material to build careers in various sectors.
Prep Smart with Disha App
Loaded with everything you need to crack
CAPF AC | NDA | CDS | AFCAT
Interview with UPSC CAPF AC Topper
AIR 1, Himanshu Vats: Tips, Strategy & more

Find out the Topper's Secret! Disha Publication is proud to present this exclusive interview with the All India Rank 1 Topper of UPSC CAPF AC Exam 2021. Himanshu's excellent scores are a result of his strategic hard work. In this video, Himanshu Vats shares his complete strategy and tips that he adopted during his preparation to guide the present-day aspirants of CAPF AC. His message to everyone is that you need to believe in yourself and keep working hard to achieve your goal. Know all the crisp and interesting details of Himanshu's personal approach to CAPF exam preparation. We are happy to share that Himanshu had referred to three of Disha's books during his preparation which helped him to achieve great scores.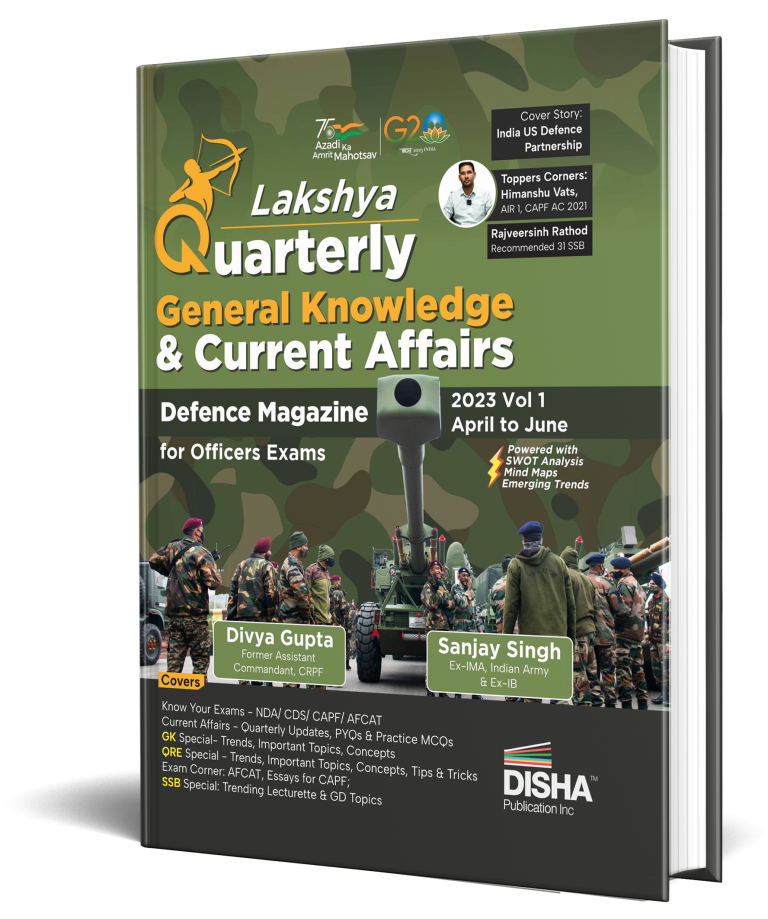 Target GK & Current Affairs for all Defence Exams with Disha's Latest Release
Lakshya Quarterly Magazine!
FREQUENTLY ASKED QUESTIONS
How to manage time?
How to plan for preparation?
What is the best strategy for revision?
How to manage time?
Defence exams are not easy to crack. So, time management is a very crucial part of the preparation. This is because the time is limited and the Syllabus is vast. So the candidates need to make the best possible utilisation of time. Also, if the time managed properly, aspirants will end up wasting time on irrelevant things, while leaving the essential things uncovered. An aspirant should necessarily maintain a time log. This will help them to keep a track of how they spend each hour.
Here are some tips for time management
Make a schedule and divide your day.
Keep at least 4 – 5 hours a day for studies (if attending coaching, you'll be able to give only 2 – 3 hours a day).
Devote around 1.5 hours for reading newspaper and making current events notes. Don't skip newspapers, nor postpone reading them. You will never find time to complete them later.
Maintain a habit of reading current affairs magazine.
Setting deadlines and targets that are small and realistic will help you complete the syllabus within time.
Get a proper sleep for 6 – 8 hours a day.
You must spend 1- 2 hours for some physical activities like jogging, cycling, yoga or playing a sport and leisure activities like music, dance, painting, etc.
Stop studying thoroughly at least 24 hours before the exam as studying now will only leave you anxious. You can go through the Mind Maps of subjects and topics. Just relax yourself for this day.
How to plan for preparation?
What is the best strategy for revision?