Lakshya Defence Magazine: Your Ultimate Companion for All Defence Officers Exams
Are you an aspiring defence officer with dreams of donning the uniform and serving your nation with pride? If so, Disha Publication's "Lakshya – the Quarterly General Knowledge & Current Affairs Magazine for Defence Officers Exams" is your perfect guide on the path to achieving that ambition. This magazine stands as a groundbreaking creation in the market, designed exclusively for defence aspirants aiming to crack competitive exams like CDS, NDA, CAPF AC, AFCAT, and more. Let's dive into what makes this magazine a one-of-its-kind product that has captured the attention of defence enthusiasts nationwide.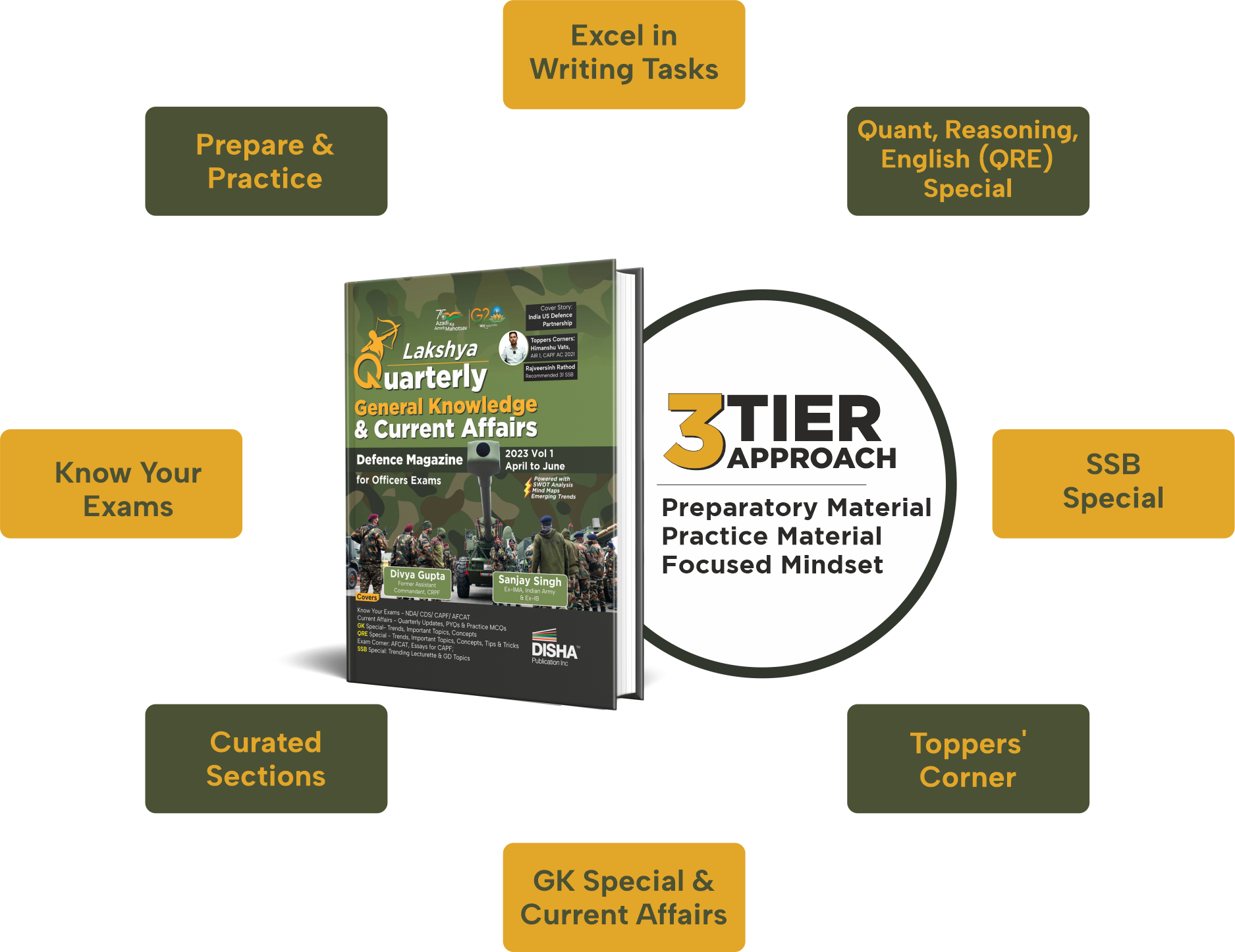 A Holistic Approach to Exam Preparation
Understanding the unique  demands of various Defence Officer exams, "Lakshya" is tailored to cater to the specific requirements of these assessments. The magazine offers a comprehensive array of features that are aligned with the exam syllabi and patterns, ensuring that aspirants are equipped with the knowledge and strategies necessary to excel.
Exam-Oriented Content
One of the standout features of the magazine is its exam-oriented approach. "Lakshya" provides a rich repository of Previous Year Questions, Practice Questions, Sample Essays, and Quarterly Updates. This treasure trove of material empowers aspirants with a deep understanding of the exam structure, question types, and essential concepts, enhancing their preparedness and boosting their confidence.
Mastering Core Subjects
The Quantitative, Reasoning, and English (QRE) sections can be particularly challenging for many candidates. To address this, "Lakshya" presents expert-curated chapters dedicated to these subjects. These chapters encompass crucial topics, concepts, trends, MCQs, and valuable tips and tricks, guiding aspirants to conquer these sections with ease.
Staying Informed: Authentic GK & Current Affairs
Defence aspirants need to stay updated not only with general knowledge but also with defence-specific information. "Lakshya" delivers both, offering in-depth coverage of General and Defence-specific GK & Current Affairs. Concepts are elucidated, trends are analyzed, and the latest updates are presented, ensuring aspirants are well-versed in all necessary aspects.

Glossary of Defence Terminology
Entering the world of  Defence Forces can be intimidating due to the technical jargon and terminology. "Lakshya" simplifies this challenge by providing a comprehensive glossary of crucial terms and words with clear explanations. This empowers aspirants to understand and communicate effectively about various aspects of Defence.
SSB Success: A Dedicated Approach
Cracking the Services Selection Board (SSB) interview is a pivotal step for aspiring officers. "Lakshya" takes this challenge head-on by offering guidance on trending Lecturette and Group Discussion topics, alongside Sample Essays. Expert Tips for the SSB Exam are also provided, ensuring aspirants are well-prepared to ace this crucial phase.
Beyond Exam Preparation: A Wealth of Knowledge
The magazine is more than just an exam preparation tool. It goes the extra mile by including essential information such as important Dates, Events, Ranks, Appointments, Persons in Command, Visits, Awardees, and more. This feature ensures aspirants are well-acquainted with relevant and authentic facts that extend beyond the scope of the exams.
Inspiring Biographies and Topper's Insights
"Lakshya" shines a spotlight on Defence personalities by featuring detailed biographies in each issue. These biographies serve as a source of inspiration, allowing aspirants to learn from the journeys of those who have already succeeded in the field. Additionally, Toppers' Interviews and Success Stories are included, providing motivation and valuable insights for effective exam preparation.
Nurturing Writing Skills
Communication skills, especially writing, are crucial for Defence Officers. "Lakshya" recognizes this and offers a robust foundation for excelling in writing tasks. The magazine includes Essay Samples, Latest Essay Topics, and Writing Tasks Training, ensuring aspirants develop the necessary skills to convey their thoughts effectively.
Disha Publication's "Lakshya – the Quarterly General Knowledge & Current Affairs Magazine for Defence Officers Exams" is a game-changing resource for defence aspirants. With its exam-oriented content, specialized guidance, authentic information, and holistic approach, this magazine proves to be an indispensable companion on the journey to becoming a Defence Officer. Whether aiming for CDS, NDA, AFCAT, CAPF AC, or other defence exams, "Lakshya" has your back, equipping you with the knowledge and tools to fulfil your dreams of serving the nation.
Disha's QUARTERLY Family Expands