From Mediocre to Magnificent:
Enhance your English Writing Skills
Descriptive writing is an essential skill for students, enabling them to express their thoughts, analyse ideas and present arguments effectively. In order to write essays that stand out, the perfect mix of accurate Vocabulary, Correct Grammar and effective writing is essential. However, many students often find themselves struggling with the process, facing difficulties in organizing their thoughts, structuring the essay and conveying the ideas coherently. Let us explore some of these challenges and their possible solutions.
Lacking structure: In order to write a good piece, be it an essay or a report the foremost requirement is that of a structure. Without a structure you may get confused and your writing flows in all directions. A structure makes it easier for the reader to understand your ideas and get the gist even in a cursory reading. Disorganisation can ruin a write up easily.
Weak vocabulary and language skills: Vocabulary skills are often confused by students as the ability to use "flowery" language which is not the case. Vocabulary skills simply mean using the most appropriate word in the context of a sentence. Students often struggle with having a brilliant idea but lacking the words to convey it accurately.
Poor grammar and sentence structure: Grammar mistakes and improper sentence construction can undermine the clarity and readability of an essay. It also leaves a bad impression in the mind of the reader.
Lacking knowledge and insufficient practice: In order to write something that stands out, you must first go through the innumerable rough drafts. And in order to write well, first you must read vigorously. Writing is a skill that is honed with regular practice.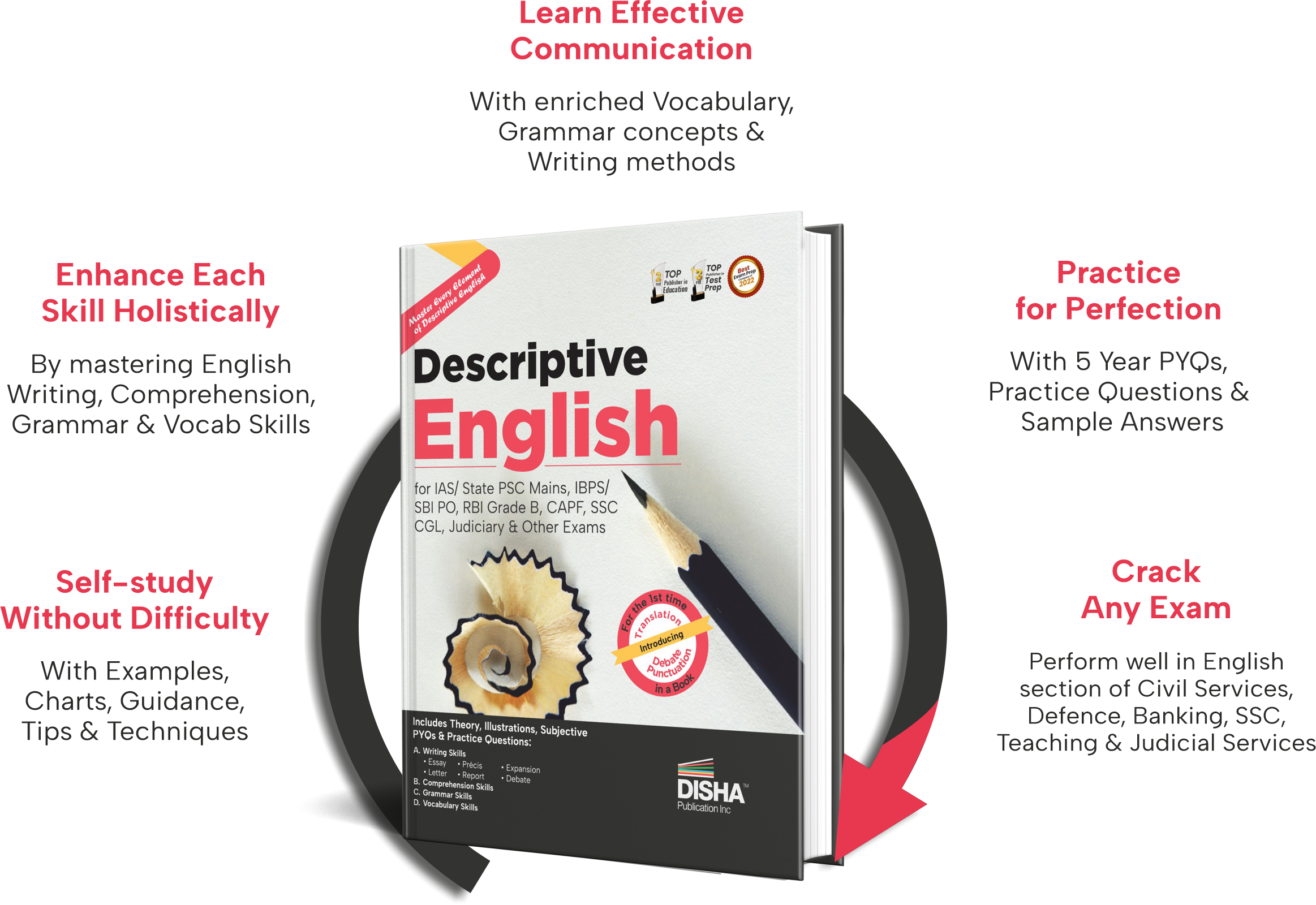 The problems to writing are many but the solution is one: Disha's Descriptive Writing. It targets all these challenged posed in the process of writing and covers four sections: Writing, Comprehension, Grammar and Vocabulary. This book is designed keeping in mind the needs of aspirants attempting various exams like CAPF, RBI-Grade B, CISF (AC), IES, Civil Services (UPSC & State PSC Mains), SBI/ IBPS PO, SSC-CGL, ECGC, TGT & PGT English exams, and all types of Judicial Services exams. Let us now see how each section tackles each challenge in the process of writing.
Writing Section: This section deals with writing of Essays, Letters, Expansions, Reports, Précis & Debates. It not only familiarizes the students with the structure but also offers various examples to help students begin writing on their own.
Comprehension Section: This section deals with Subjective RC and Translation. From Hindi to English and English to Hindi.
Vocabulary Section: This section is made keeping in mind the needs of aspirants and includes Legal Vocabulary and Foreign Words/ Expressions too apart from the regular Vocabulary Topics.
Grammar Section: In addition to the regular lessons about grammar, this section also includes lessons on punctuations.
Each section in the book is accompanied with a thorough introduction and at least 5 PYQs for the reference of students. Descriptive English covers all the writing needs of students from a holistic view. It helps you translate your ideas so that they are understood. This Single Book is enough to help you gain a new-found confidence in using English Language for all purposes!