What is Bloom's Taxonomy?
Benjamin Bloom (1931–1999) was an American educational psychologist, who chaired the committee of educators that devised the taxonomy. Bloom's taxonomy is a set of hierarchal models which focus on learning objectives. You can think of it as a cake with different levels, where the lower level serves as the foundation for the upper level.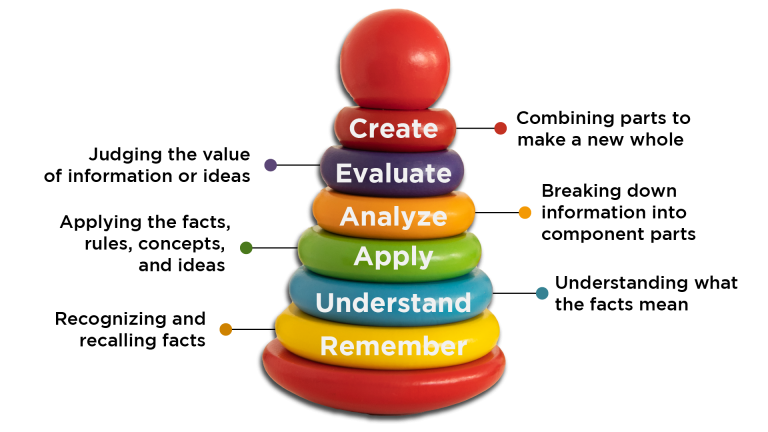 As it is a hierarchal model, learners need to master the base level before moving to the next.
Let us understand this with a simple example, suppose you are learning about an Apple.
The first level will include remembering all the facts about an Apple such as, an apple is a fruit, it is red in colour, it is rich in Vitamin B, there are different types of apples and so on…
The second level will be to understand all the facts you learned. For instance you would be able to distinguish an Apple from a Pear as you understand the properties that make an Apple are not the same in a Pear.
The third level will be to apply you knowledge. At this level you understand that someone with a deficiency of Vitamin B should consume Apples as they are rich in Vitamin B.
The fourth level will be to analyze. At this level you can break down your knowledge into its components for instance you can identify that the health benefits from eating a whole Apple are different from consuming packed Apple juice.
The fifth level is to evaluate. At this level you can make a judgement based on pre-decided criterions, for instance you can judge that apples are suited for baking pies.
The sixth level is to create. At this final level you can create new ideas with existing knowledge for instance making new recipes with apples.
Why is Bloom's Taxonomy important for children at a young age?
For more than 50 years and counting, faculty from K–12 through HEIs have used Bloom's taxonomy extensively. This is mostly because of its structure, which emphasizes setting realistic learning objectives that teachers and students can both comprehend and developing a well-thought-out strategy to achieve them.
Here are some of the reasons why Bloom's Taxonomy is so essential:
For Teachers/Educational Institutes
The levels of Bloom's Taxonomy can aid in guiding students through the learning process, starting with remembering, understanding, evaluating, and creating. This makes it particularly beneficial for course design.
Bloom's taxonomy, since it was published, has been the foundation for structuring curriculum learning objectives, assessments and activities.
It can further help in developing assessments by assisting you in matching course learning objectives to any desired level of mastery.
Clear learning goals organized in a systematic order is essential especially for students at primary level as they build the foundation of not only their knowledge but also develop their personal learning style and problem solving skills.
For Students:
Learning objectives should be established in a pedagogical interaction so that both instructors and learners understand the real purpose behind them.
Bloom's taxonomy helps students improve their brain strength and further help in creating more synapses between nerve cells.
It promotes higher-order thinking in the students by building up their lower-level cognitive skills.
It helps students develop skills that employers want, such as problem-solving skills, critical-thinking skills, etc
Perfect genius for your little one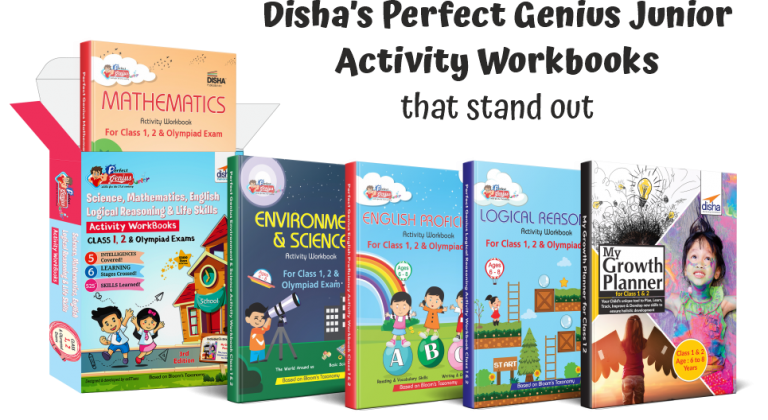 Perfect Genius Activity books for Juniors Grade 1 & 2 (based on Bloom's taxonomy) are a MULTICOLOURED product designed on the model of 'Assessment for Learning.'
It is set of 4 workbooks covering English Proficiency, Mathematical Aptitude, Logical Reasoning, and Environmental Studies along with one Growth Planner (Plan, Learn, Track, Improve and Develop Life Skills)
 These activity books are India's first books based on the concept of Blooms Taxonomy. It provides exciting and innovative worksheets which will engage a child creatively and push him to stretch beyond his normal self.
Unlike regular books which try only to find out how much a child knows, the Perfect Genius kit measures how well a student has understood concepts and gives feedback on the same, to help him/her improve.
The workbooks contains Interesting Concepts, Quizzes, Puzzles, Activities, Experiments, Games and Exercises in the form of scientifically designed and integrated WORKSHEETS to develop the SCHOLASTIC and COSCHOLASTIC skills of the child.
The Worksheets have been designed on the different learning stages (Bloom's Taxonomy) Knowledge; Comprehension; Application; Analysis; Evaluation; Creation
The books also provide Performance Tracker which consists of the list of skills covered in a tabular format. Here the children/ parent can keep the record of the activities completed by the child.
The solutions to all the worksheets are provided at the end of the book.
To make it more interesting for the children each worksheet has been provided with 10 stars. The can get a Club (4 stars), Spade (6 stars), Heart (8 stars) and Diamond (10 stars).
The book helps in building a strong foundation for National & International Olympiad Exams. The book is not based on the syllabus of a single board but cover all the major boards as a whole.
Children these days are overly-stimulated due to usage of mobile phones since an early age, but these worksheets are designed to help provide you child's creativity the right direction. These worksheets help develop the right skills at the right age.