UPPSC Mains Paper Syllabus/Pattern changed
Read all about it
The Uttar Pradesh government has recently announced the updated exam pattern for the UPPSC Exam. The two optional exams in the PSC Main paper will now be replaced with two general knowledge exams.
Reason for this major change
This decision although has shocked aspirants but comes with good intentions for the aspirants. Union Public Service Commission has taken this decision in the light of candidates who prepare for the UPSC exam and kept UPPSC as a backup as the syllabus was the same for both exams. In order to make it a fair playing field for students who keep UPPSC as a first preference this decision has been made by the UPSC.
What is the new syllabus for UPPSC?
The new updated detailed syllabus for the UPPSC syllabus is given in the attached pdf. The following are the key highlights from the syllabus change.
Introduction of 33% negative marking in the Prelims Exam
The UPPSC mains will have 4 GS papers and only one optional subject (2 papers) along with the Essay and General Hindi paper.
Two papers for optional will be replaced with two general knowledge papers about the state of Uttar Pradesh
The interview will be for 100 marks.
Detailed syllabus for two general knowledge papers:
How should you prepare for the exam now?
As the syllabus for the exam has been changed, aspirants look desperately for a trusted source for their preparation. Adhering to this issue, Disha Experts have come up with new book based on the latest exam syllabus exclusively for Mains paper V and VI. It is the first book of its kind, adhering to the latest syllabus and pattern.
This book covers Paper V and VI in extensive detail in 21 and 23 chapters respectively. It also includes chapter-wise expected questions from all topics. The book is designed in a student-friendly manner covering the syllabus with innovative tools like mind maps, charts, diagrams and tables. The book is a must-have for all students appearing for the 2023 UPPSC exam.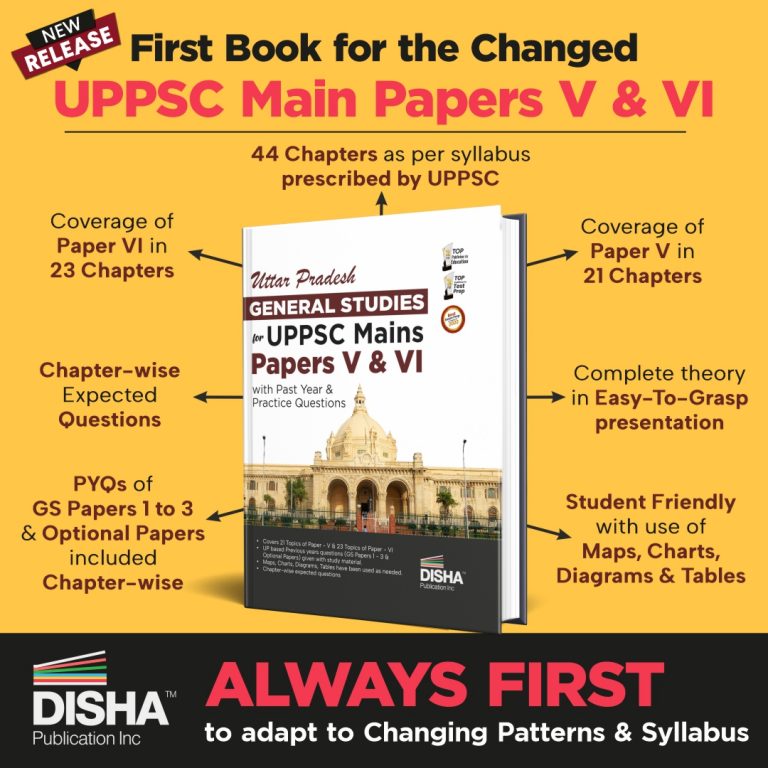 UPPSC Preparation: Disha provides a complete solution
Disha provides a complete set of book to take care of your UPPSC preparation needs. From guide books to mock tests, you can find them all carefully designed by Disha Experts. Here is a list of books that will complete your preparation from the start to finish and help you crack UPPSC 2023 Exam.